The Rules of Golf can be a bit daunting particularly for golfers who are new to the game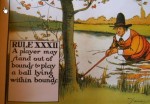 or for those who haven't the time to wade through the R&A rules book.
The Provisional Ball is an area that can cause a lot of controversy and it is highly relevant on a number of holes in Castleknock (CK.) especially on the 8th, 9th 10th and 18th.
Click The Provisional Ball to view a video by Barry Rhodes on the subject.
Why learn the basics? It is important to know the Rules of the game and a knowledge of these basics will enable you not just to get round the golf course incident free but it may save you some precious strokes in the process.
The video is perfect for juniors, beginners and even long standing golfers who wish to brush up on their Rules knowledge and we will visit other areas of the rules in future blogs.