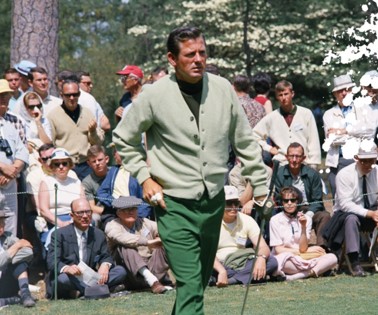 Born into a poor family, Sanders picked cotton as a boy and taught himself to play golf.
He was named one of America's Best Dressed Jocks in 1973. Notable for having a swing so short it was said he could unleash it in a phonebox, Sanders was forced to finish a Pro-Am competition in a head bandage after being struck by a wayward three wood from then President Spiro Agnew.
Doug famously missed a two-footer on the 72nd hole in The British Open at St Andrews in 1970. However, no one remembers the extraordinary bunker shot he played at the penultimate Road Hole to give himself the chance of victory, but hey-ho. A sensational 18 hole play-off followed the next day that he lost by one shot to Jack Nicklaus. Doug was asked recently if there was ever a day went by that he didn't think about that putt. Doug shrugged his shoulders and said with a conspiratorial wink: "No, no, no…. there isn't ever five minutes that goes by without me thinking about that putt".
Doug Sanders recorded 20 PGA Tour wins but never won a major, finishing runner up twice at The British Open and once at the US open and PGA Championship.
Despite his lack of a major, Sanders led a truly remarkable life. Nicknamed 'The Peacock of the Fairways' due to his sartorial elegance, Sanders was a genuine 1970s playboy, blazing it up on the fairways by day and tearing it up at night on the town with Frank Sinatra, Sammy Davis Jnr and the rest of the Rat Pack. When he wasn't hanging with the Rat Pack he was playing golf and sipping cocktails with astronauts and Presidents.
It is said that the two most frequently asked questions on the Senior PGA Tour were "What did Arnold Palmer shoot?" and "What is Doug Sanders wearing?"
"I'm as rich as any man or woman in the world," Sanders told us. "Because I weigh and measure my wealth by friends, and golf has given me that opportunity." We will certainly drink to that, Doug.