by Dermot Gilleece
In Easter Week 1915, the passenger liner Cymric sailed into New York Harbour at the end of a transatlantic crossing from Liverpool. Among those on board was 27-year-old Peter O'Hare, a golfing native of Greenore, with a heart set on conquering fertile fairways in the New World.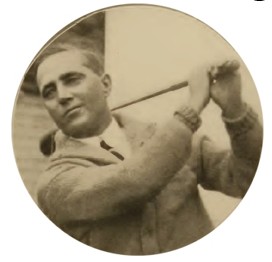 Five years later, at around the same time of year, he was joined by his younger brother, Pat, the reigning Irish Professional champion, who made the crossing from Southampton. Between them, the O'Hares were to have a significant impact on golf in the US, especially along the eastern seaboard.
During a recent visit to their home place, I stopped outside the brown hall-door of 4 Anglesey Terrace, only a smooth short-iron from the delightful course where they learned their craft. Then I met Tony Eaton, captain of Greenore GC in 1994, when the new clubhouse was officially opened at a cost of £600,000, all fully paid for before the decade was out.
A third O'Hare brother, James, emerged from that modest cottage, free from the wanderlust of his siblings. In between spells as professional at Greenore, he filled the same role at Skerries from 1914 to 1921, succeeded Pat as Irish Professional champion at Castlerock in 1920, and was 73 when he died in 1963.
Though the golfing O'Hares have long fascinated me, it was only on meeting Eaton that I learned the finer details of their activities in the US. His thorough research should secure them a well-earned place at the forefront of Irish golfing families, certainly as pioneers of the game.
As I discovered some years ago, the first problem to be overcome was their actual name. Look for O'Hare in any of the American record books and you'll draw a blank. For the most part, they were known there under the surname O'Hara. While it would be easy to attribute this to an innocent misspelling by immigration officials at Ellis Island, a cutting from the New York Times, referring to Pat's first exhibition on May 12, 1920, carried the headline 'O'Hare to Make Debut Today'.
In the event, the brothers were known only as O'Hara from then on. And leading newspapers and magazines reported that the new arrival's first post was as an assistant at Shackamaxon CC in Westfield, New Jersey, where Peter had been appointed professional earlier that year.
Another report about Pat spoke volumes for the rather quaint attitude of American scribes to Irish affairs at that time. On April 27, 1920, the New York Times announced his arrival on the local professional scene with the words: 'The Irish Professional golf champion has quit the green isle of Sinn Feinism and strife to make his home on this side of the Atlantic henceforth'.
He seemed to knock some mileage out of elevating his status to Irish Open champion and who could blame him, though such an event wasn't launched until 1927.
Either way, the high esteem in which they were held can be gauged from a much-publicised exhibition the brothers played at Shackamaxon, against no less opponents than Harry Vardon and Ted Ray. As it happens, Ray was then the reigning US Open champion and, seven years previously, had famously lost a play-off in the company of Vardon to the amateur, Francis Ouimet, at Brookline.
On that October day in 1920, however, the celebrated Britons were hammered 6 and 5 by the O'Hare brothers in a 36-hole match which, according to The Westfield Leader, "will stand out for a long time in local history." While it was noted that the big-hitting Ray almost drove the green at the 337-yard third, The Leader also reported that "Patrick O'Hara strengthened himself in the esteem of those who have looked for great things from him ever since he made the low score of 69 in the open championship [qualifying round for the 1920 US Open] at Inverness."
Pat also charmed local scribes with tales from home. Like the one about the so-called Irish excuse-artist. According to the New York Times of February 26, 1921: "This chap never made a shot of any kind that he didn't blame somebody or something. One day he missed a three-foot putt. He looked around, glared, but couldn't see a thing to blame the miss on. He glanced at the blue sky and way, way up in its cerulean depths, he saw a speck. 'Damn that lark,' he exclaimed, aggrievedly, but with a note of satisfaction at avoidance of breaking a long-established custom. 'Its shadow made me miss that putt'."
Making due allowance for the fact that they were essentially local players, it still says much for the prominence of the O'Hares that the New York Times would have given them so much space. This, after all, was at a time when the American golfing scene boasted such leading lights as Walter Hagen, Gene Sarazen, Jock Hutchison (1921 Open champion) and Jim Barnes (1921 US Open champion), apart from Vardon and Ray.
In April 1921, Hutchison won the prestigious North and South Professional Open at Pinehurst where Peter O'Hare was fourth and Pat was tied seventh. A month later, Peter gained his most notable US victory and top prize of $200 in the inaugural New Jersey Open at Knickerbocker CC, prompting Shackamaxon to hold a celebratory dinner in his honour. Meanwhile, Pat had taken up an appointment as professional at Richmond CC and gained regular mention in the sporting columns for achievements such as a course-record 69 at Staten Island.
The North and South Open of 1922 took place at Pinehurst on March 31 and April 1. And it is well-documented how Pat O'Hare spreadeagled the field in horrendous weather with a second-round 69 on the opening day on course Number 3, only to have tournament director, Donald Ross, scrap the round because of flooded greens.
That was when friends advised Pat to withdraw in protest. Instead, he vowed that having beaten the field that afternoon, he would do so again the following day. So it was that when the final two rounds took place on the iconic Number 2 course, O'Hare carded 75 and 72 to win "the handsome championship trophy and $300 in cash". And he did it by a margin of no fewer than four strokes over the 54 holes.
A measure of this achievement was that he remained the only Irish winner of an official US tour event for 83 years, until Pádraig Harrington captured the Honda Classic and $990,000 in March 2005. And Peter O'Hare's seventh-place finish behind Cyril Walker in the 1924 US Open at Oakland Hills remained the best by an Irishman until Harrington finished fifth behind Tiger Woods at Pebble Beach in 2000.
When the tenor John McCormack sang Irish ballads to sell-out audiences in New York and Boston at that time, we're told that tears were at the heart of things. And while there didn't seem to be much sadness in the lives of the nation's emigrant golfers, it was to come later for Pat O'Hare.
Peter, whose wife Honoria hailed from Kenmare, remained in the US until his death in Florida on April 11, 1977 at the ripe old age of 89 and was buried in Hackensack, New Jersey. Pat, on the other hand, came home to Greenore in the winter of 1922/'23 and never returned to the US. Though he won another Irish Professional title in 1927, he later succumbed to ill health and was only 55 when he died on December 22, 1946.
Locals around Greenore never knew how good he was. Nor were they aware of the American exploits of his older brother. Now, belatedly, it is hoped to set the record straight on the merits of two true Irish golfing heroes.