Ben Coley hopes for a firm but fair US Open, where the world's best players are allowed – encouraged, even – to shine.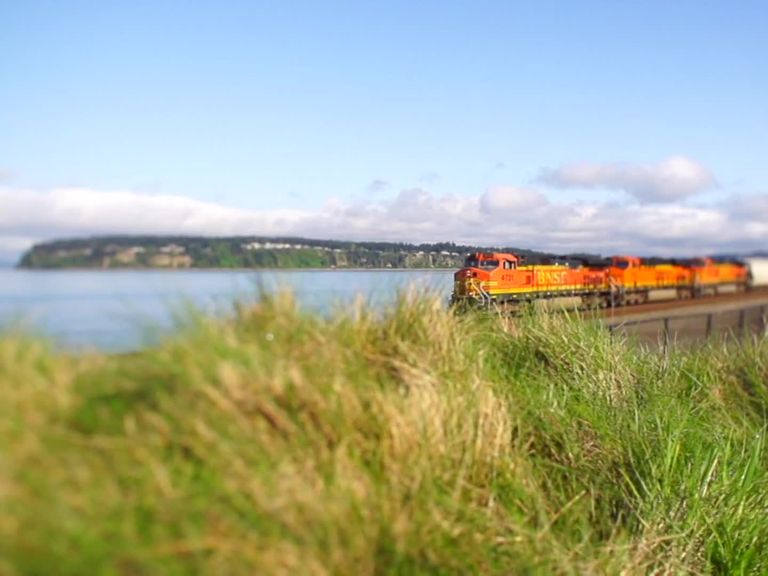 A year ago, Chambers Bay saw golf enter the unknown. A golf course built within the troughs of what was once a mine, it was a world away from those hardened, famous layouts upon which the US Open had built its reputation as a fearsome but fair test of the sport's best players.
Alongside the 16th fairway, trains continued to roll, taking passengers north to Vancouver or south to Oregon. Tee-boxes threatened a sloped lie, instead of guaranteeing a flat one; the first and 18th holes alternated between pars four and five. Spectators snapped happy on phones they had been encouraged to switch on.
Depending on your point of view, it was either the USGA's bold attempt to evolve and to widen the boundaries of their national championship, or a desperate, failed lunge to manufacture intrigue in a way that comes naturally to the Open Championship and the Masters Tournament. Or, of course, somewhere in between.
There's little doubt that organisers of this tournament – and Mike Davis in particular – care much for how their precious commodity is viewed. It's hard to shake the idea that the R&A, archaic though that organisation may occasionally seem, is more comfortable in its own skin. At Royal Troon this year, as at St Andrews last, what will be will be. If -20 wins, so what?
It helps when you're surrounded by a collection of the world's oldest and finest golf courses. Designed well and preserved properly, a great golf course will stand the test of time and will not require constant shape-shifting to hold onto its quality. Yes, unless technological advancements are curbed, scoring will be affected, tees may need moving back, but the nuts and bolts of the Old Course need no rearrangement.
There are many great golf courses in the United States, but if Chambers Bay is to become one of them, more than shape-shifting will be required. The US Open undoubtedly arrived too soon for it and the USGA's reputation rightly suffered. Like the 16-year-old who sees their name on the team sheet and is forever anchored by the record books, this young golf course found everything too much and may have to wait a long time to right the wrongs of 2015.
"The worst golf course I might've ever seen in the 63 years as a professional golfer," said Gary Player. An exaggeration, yes, but telling nevertheless. And he was not alone.
If this all sounds dramatic, that's precisely the point. Providing the right golf course has been selected, a great tournament relies on one thing: great players. There are lots of them around. Never should the focus be shifted away from quality swings, breathtaking scrambles, deadly putts. As is true of all great officials, names shouldn't be familiar. Drama should be allowed to arrive naturally.
The biggest mistake the USGA made was six years before, when they had gambled on Chambers Bay being ready. Once the event began and it was clear that the greens were not fit for a club championship, let alone a national one, and that spectators could get nowhere near the action on several holes, there was very little they could do. Henrik Stenson compared the greens to broccoli, Ernie Els was less creative and simply called them the "worst greens [I've] ever putted", Sergio Garcia wisely bit his tongue.
Anyone familiar with the goings on in golf will know that when there's complaining to be done, the names Stenson, Els and Garcia won't be far away. The diplomacy of Adam Scott, who went no further than calling the greens "a shame", is not something any of these men finds easy, and it's easy for us therefore to point at the player and tell them they're wrong to complain.
To an extent, the names on the final leaderboard – laid-back Scott and Louis Oosthuizen; ultimate modern-day grinders Jason Day and Jordan Spieth; 'the greens? I hadn't noticed' Dustin Johnson – underline the notion that for the player, there's nothing better than to get on with it.
But that does not mean anyone invested in the tournament – from players to stay-at-home fans – should accept what they're given. On the contrary, they should demand better, so few are the opportunities to crown a major champion in the men's game. They could play a major championship on concrete and chances are Day or Spieth would find a way to contend. That doesn't mean it would or should be considered acceptable.
And so we head to Oakmont, cleverly positioned behind Chambers Bay on the US Open roster. This course is brutally difficult – 13-over has won a US Open here – but its reputation so tall that any notion of things being unfair comes in whispers. It was always the veteran back-up to the in-at-the-deep-end rookie. Whatever happened in 2015, Oakmont 2016 could make it better.
Except that this time, the USGA have options, which the beyond-help Chambers Bay did not provide, and it's how they play their hand which will determine how this event is viewed, how loud those whispers become.
How fast will they allow the slopiest greens in America to become? Where will they perch the pins? Just how thick has the rough been encouraged to grow? Are the USGA prepared to apply water if things begin to get out of hand, in an age of eco-friendly agronomy? Will the tee on the ridiculous eighth hole be moved forward at least once?
There's nothing wrong with difficult, but every time you hear the famous Oakmont quote – "A shot poorly played should be a shot irrevocably lost" – think of the other side of that point.
Yes, a bad shot should be punished and if the punishment is severe, the player will soon know that they must try to minimise the damage. But golf is a sport which prides itself on fairness: with William Fownes' words about a bad shot should come a companion promise for the good.
In 2007, there were those whispers – nothing more – about good shots being punished. They were whispers because this golf course is a century old, and neither Ben Hogan nor Jack Nicklaus had complained about conditions when they won their respective US Opens here. It's telling, though, that both men broke par. If things get out of hand this week, there's some suggestion that 10-over could have a chance. One wonders what they'd have said about that.
The problem with allowing the USGA to set the agenda unchallenged, to render the word 'par' redundant is that nobody really wins. In a year which sees golf re-enter the Olympics, champions of that cause keen to 'grow the game', the potential for officials to once again undermine what makes golf exciting has largely been ignored.
This is a sport which will never be far away from an identity crisis. Does it take too long? What should we wear? Are there enough women and members of minority communities being encouraged to play? Is it too expensive? There are uncomfortable questions to be answered. But what golf should be able to do comfortably is show off.
In its recent history is arguably the greatest sportsman of his generation, a man who changed not only his sport but others, too. It almost sells itself. No sooner had Tiger began to fall, than three players on their way to all-time greatness emerged, one from Australia, one from Northern Ireland, one from Texas, their routes to the top each different from the other.
As women's tennis worries about what happens when Serena Williams retires, and athletics relies so heavily upon one man, golf is in a position of great power. It's an opportunity which should not be wasted.
After all, nothing impresses the watching public like brilliance. At Wimbledon, they do not push the net up an inch; at the World Cup, the goalposts are not narrowed; Usain Bolt is not asked to run on ice. Great sporting events are made great simply by existing, by allowing their prized assets to perform as well as their preparation allows them to. Loosely, these events remain in the flow of the sport; there's nothing new here, except more eyes, more pressure, more reward. That's because nothing more is needed.
So it is to be hoped that Oakmont is demanding, yes, but reasonable. That a shot brilliantly played should be a shot generously rewarded. At Chambers Bay, all this was forgotten – it just so happened that the best players still found a way to create a thrilling tournament, despite all the barriers set before them. The USGA may not be so lucky next time.