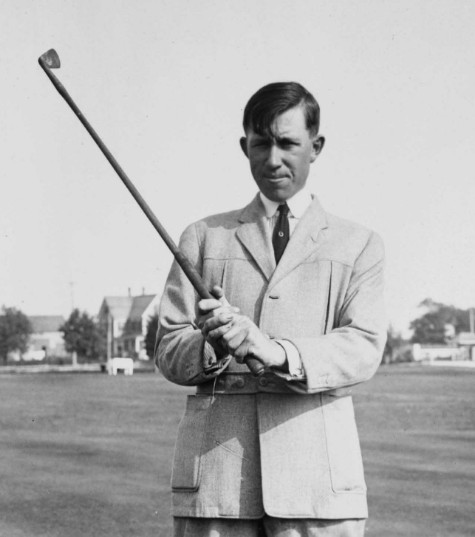 Not many people know the name John McDermott — although he was one of the best players of his era, his story seems to get lost in the shuffle of golf history. Players like Walter Hagen and Gene Sarazen are often considered the original American stars, but McDermott was the first American to ever win a U.S. Open.
The son of a Philadelphia mailman, McDermott grew up caddying for various players at local courses and eventually started working the pro shops. It is said that in his spare time, McDermott would practice from sunrise until 8 a.m., open the clubhouse and then play rounds from afternoon until dark. He didn't waste his time like other misguided teenagers — didn't drink, didn't smoke, rarely dated. In fact, McDermott was one of the first people to decide to dedicate his life to golf, something that wasn't customary in the early 1900s.
McDermott was the first person in golf history to carry out many feats. In 1911, he became the first American to win the U.S. Open; at 19, he was also the youngest winner in the event's history. One year later, he became the first to break par at the event. Yes, McDermott was America's first golf star, but all of these accomplishments are overshadowed by unlucky and perhaps predestined events.
Two of the greatest players in golf history, Harry Vardon and Ted Ray, weren't in the field for either of McDermott's U.S. Open wins. This begged the question: can McDermott really beat the best in the world?  His boastful, boisterous speech in advance of the 1913 U.S. Open, in which Vardon and Ray were entered, was perhaps the turning point in McDermott's career.
John McDermott basically called out two of the best players in the world and denounced British golf in the same breath. Even for someone with a resume like his, that's a lot of "talk," and it certainly ignited a fire under Vardon and Ray. In the end, an American did win the 1913 U.S. Open, but it was little-known Francis Ouimet, not McDermott. This, of course, is the subject of Bill Paxton's 2005 film The Greatest Game Ever Played. McDermott could muster only an eighth-place finish, trailing both Vardon and Ray.
Months later, McDermott blacked out while entering the Atlantic City Clubhouse, where he previously worked. He was plagued by diminishing confidence and a series of nervous breakdowns; eventually, he was admitted to the Norristown State Hospital for the Insane. He proclaimedthat everyone was against him and was haunted by a dark cloud of paranoia for the rest of his life. He spent the better part of 55 years at Norristown and made no effort to return to a healthy mental state.
In the last months of his life, his sisters took him to the 1971 U.S. Open, where he was received by Arnold Palmer after many failed to recognize him. There, he watched Lee Trevino win his second U.S. Open, tying McDermott's mark. Two months later, John McDermott died in his sleep at Norristown State Hospital at the age of 79, and a sad chapter of golf history came to a close.