Interclub competitions will be taking place from the end of March 2020 right through the Summer months.
The competitions that the club takes part in are shown below together with the managers for each tournament where available.
There is a sheet in the Locker Room where you can register your interest in playing on a team or teams and the interclub committee will get in touch with you asap.
---

---
BARTON CUP (3rd Quarter of draw):


First Round Top of the draw has home advantage
Second Round: 58-27-40-39-50-23-20-24-21-38-43-55-22-8-59-48-35-32-52-28-6-51-30-17-18-25-

33

-42-49-45-15-37-46-63-7-26-64-

34

-29-31-61-56-41-13-62-53-2-14-54-16-5-4-3-11-36-44-47-9-10-60-19-1-57-12
Third Round: 3-29-12-32-21-24-26-16-23-15-4-1-

17

-11-25-6-19-8-5-14-22-20-2-30-13-28-27-

18

-10-9-31-7
Fourth Round: H-N-K-A-F-P-O-D-G-

J

-C-E-

I

-B-L-M
Quarter-Final:

F

-B-

E

-H-D-G-C-A
---
SENIOR CUP (2nd Quarter)
First Round: Top of the draw has home advantage
Second Round: 18-22-17-2-24-9-23-7-3-26-29-1-15-10-20-30-19-11-4-25-6-31-8-16-5-28-13-27-32-14-12-21
Third Round: L-P-B-O-F-M-H-J-I-N-D-C-E-G-K-A
Quarter-Final: C-G-F-A-D-H-B-E
Semi-Final & Final: At Naas Golf Club on Saturday 26th September
---
PIERCE PURCELL (2nd Quarter)
First Round Top of the draw has home advantage
Second Round: 13-49-27-32-14-43-12-55-58-7-3-47-26-29-1-15-10-20-33-38-41-44-48-53-62-51-40-45-52-56-60-59-50-34-21-39-18-22-57-42-17-63-2-24-36-9-23-30-19-11-64-37-61-4-25-46-6-31-8-16-5-54-28-35
Third Round: 16-5-28-13-27-32-14-12-7-3-26-29-1-15-10-20-21-18-22-17-2-24-9-23-30-19-11-4-25-6-31-8
Fourth Round: C-D-E-G-H-I-J-N-B-O-F-M-K-A-L-P
Quarter-Final: A-F-G-C-E-B-H-D
Semi-Final: A–B-D-C
Final: At Birr Golf Club on Saturday 26th September at 11:15am
---
---
JUNIOR CUP (top Quarter)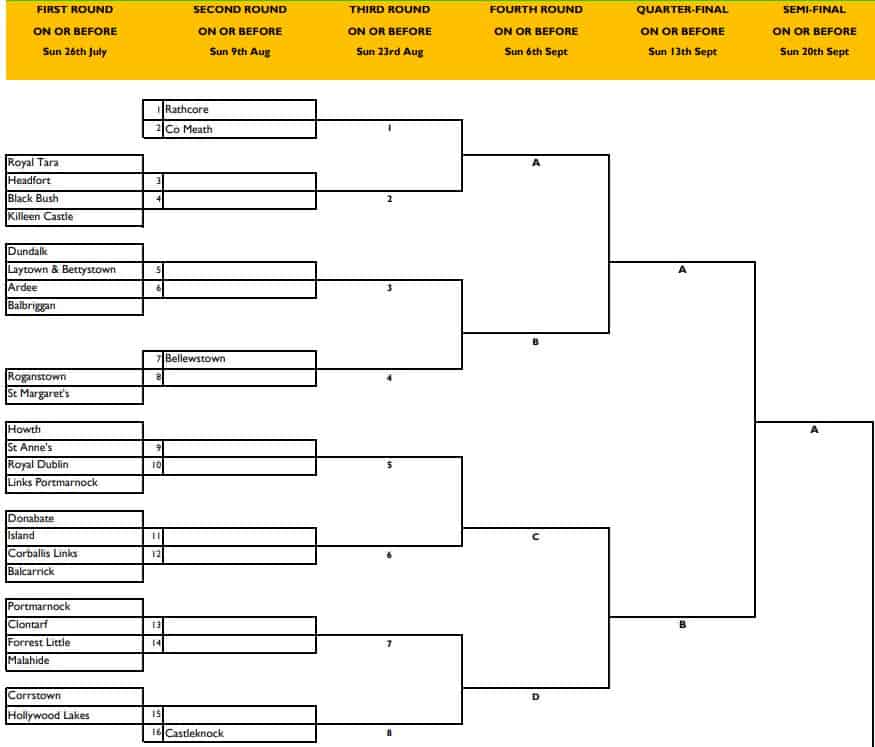 First Round Top of the draw has home advantage
Second Round: 48-63-3-19-40-26-13-52-4-54-30-31-7-27-51-39-15-41-32-9-10-24-60-22-44-21-18-38-5-20-57-42-25-6-33-34-23-53-12-62-58-37-47-59-29-46-28-43-55-61-45-11-64-50-16-56-17-1-14-49-36-2-35-8
Third Round: 12-23-14-4-30-10-28-25-8-29-15-17-19-13-7-1-3-11-26-24-27-5-31-21-32-16-2-9-18-6-20-22
Fourth Round: D-N-K-M-P-C-I-B-J-L-O-A-H-F-E-G
Quarter-Final: A-C-G-H-D-B-F-E
Semi-Final: B–A-C-D
Final: At Birr Golf Club on Saturday 26th September at 10:00am
---
---
JIMMY BRUEN (3rd Quarter)
First Round Top of the draw has home advantage
Second Round: 16-49-36-29-52-23-26-61-1-50-22-5-43-21-35-41-47-18-46-39-63-32-54-51-44-24-58-45-33-59-30-60-27-34-14-28-56-17-40-57-48-62-15-64-19-2-10-53-3-6-31-9-37-4-11-25-55-7-12-20-42-13-38-8
Third Round: 2-14-22-27-17-1-19-3-25-9-16-31-12-6-20-4-28-8-32-21-11-10-26-30-23-15-29-13-5-24-7-18
Fourth Round: K-E-P-N-D-F-L-I-H-G-C-J-M-O-A-B
Quarter-Final: D-F-A-G-C-H-E-B
Semi-Final: C-A-D-B
Final: At Laytown & Bettystown Golf Club on Saturday 26th September at 11:00am
---
---