How about this for one of our Nine & Dine Fridays!!
By Gerry Dulac / Pittsburgh Post-Gazette
GREENSBORO, Ga. — Sergio Garcia said he got off to a slow start and still shot 30 for nine holes. Justin Rose was
disappointed that he shot 33.
With the pressure off after playing in the Masters, the two European Ryder Cup teammates really felt the pressure off when they were playing on greens with 15-inch cups, not the regulation holes that are 41/4 inches in diameter.
"My mindset changed completely," said Rose, the reigning U.S. Open champion. "Even when I missed the fairway, I thought if I can get this up or around the green I can still make birdie because the hole is so big."
"I had three chances to chip in and I didn't, and I was disappointed with that," said Garcia, the No. 7-ranked player in the world who missed the cut at the Masters.
"From inside 100 yards, you feel like you can hit it like this," he added, holding his fingers an inch or so apart.
Garcia and Rose took part in a nine-hole tournament Monday that used 15-inch cups at the Oconee Course at Reynolds Plantation, approximately 70 miles from Augusta National Golf Club. The tournament was hosted by TaylorMade Golf, which is committing up to $5 million over the next five years to support a program called Hack Golf — designed to make the sport more fun and attract new players.
Garcia and Rose, along with Dustin Johnson and Jason Day, are TaylorMade's poster boys on the PGA Tour.
The 15-inch cups are among several ideas being advanced by the PGA of America, which has formed an alliance with Hack Golf.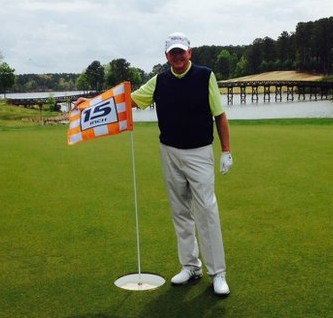 PGA of America president Ted Bishop has created a task force from inside and outside the industry to come up with ideas to help resuscitate a sport that has been in a downward spiral for nearly a decade. Even PGA Tour commissioner Tim Finchem has joined the coalition.
"Ninety days ago there was no such thing as Hack Golf," TaylorMade-adidas chief executive officer Mark King said after the nine-hole tournament. "Now you have the PGA of America really excited about it, and getting Tim Finchem is great for us to have his endorsement. That means he supports the idea of trying new things to bring people into the game."
The 15-inch cup concept is a good start. Not only does it make it easier for players to make putts from anywhere on the green, it also increases the possibility of shots from off the green going into the hole. That, in turn, speeds up pace of play.
The holes have sand at the bottom of the cup so balls traveling at a faster pace will stay in the hole.
Unfortunately for Garcia and Rose, they are not going to play with cups that size on the PGA Tour.
"The biggest thing is, speed is not relevant," Rose said. "A 4 ¼-inch cup doesn't receive a ball with speed, therefore you have to really take your time to read the break perfectly. You don't have to spend as much time reading greens because you don't have to be that precise."
"There's no lagging anymore," Garcia said, laughing.
Bishop said the PGA of America is not trying to revolutionize the game or break from tradition with 15-inch cups. But he said it's an alternative for golf-course owners to try and make the game more enjoyable for high-handicappers, charity outings and couples and junior leagues.
As owner of a 45-hole facility called the Legends Golf Club near Indianapolis, Bishop said it's also a way for course owners to generate more revenue.
"For 10 years, we thought and hoped things would turn around in our industry," Bishop said. "Now we have to get drastic and do something about it.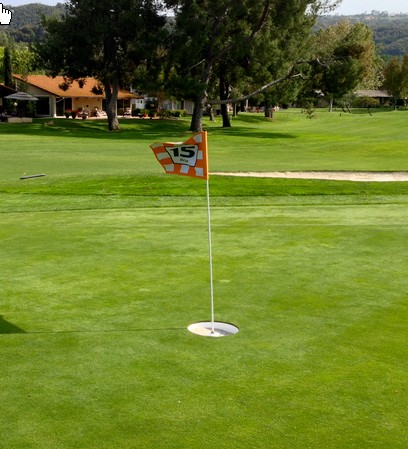 "We have to do some more things that are out of the box. We feel it has a chance to move the needle. We have to redefine what the golf experience is today."
King said approximately 100 courses around the country have agreed to enroll in the 15-inch cup testing program. Bishop said he will consider using a regulation hole and the 15-inch cup on each green on one of his nine-hole layouts.
The cost of the kit is inexpensive (approximately $60) and the device to cut the hole in the green is $250.
"In this country, you can break golfers into two categories — you have players and you have golfers," Bishop said. "And golfers are this expansive group that don't have handicaps, who don't play anything competitively, who just want to play the game, play with their friends. They don't want to get caught up in all these technical rules that are a barrier for them in the sport."