R&Rs for Competition are below the League Tables. Please make yourselves familiar with them.
---
The Brophy Trophy has reached the Final stage
---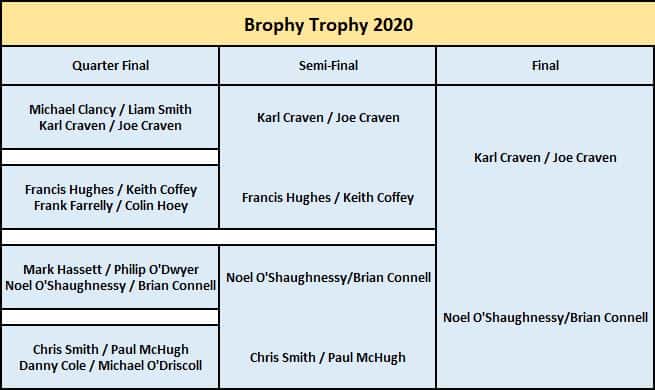 ---

Updated 31st December
RULES FOR CLUB FOURSOMES MATCHPLAY
Hi All. See below for rules of Club competition running over the winter months.
The competition will commence next weekend and the final will be completed in mid-March.
The competition has been kindly sponsored by Mr Lorcan Brophy and the winners will be presented with the cup on the evening Mr Joe Lavelle's captains drive-in.
There will be prizes for winners, finalists and both semi-finalists.
Best of luck to everyone playing!!!!
1. All Matches to be played in Foursomes format off White Tees.
2. Matches can be played over 18 holes or 9 holes. Duration of the match must be agreed by both teams prior to commencement of play.
3. GUI Handicap allowance applies.
1/2 Handicap difference for 18 holes
1/4 handicap difference for 9 holes.
4. All matches must complete the full round of 9/18 holes agreed.
5. All results must be updated on the "What's app" group after the match is completed.
6. 10 Group winners plus 6 best 2nd places will qualify for the last 16 knockout round.
7. Winning team receive 4 points
Drawn game 2 points each team
0 points for a loss.
8. Best 2nd place will be decided by highest points.
In the event of a tie win/loss hole aggregate will decide order.
If teams are still equal winning/losing margin of 3rd game will decide.
9. All group matches must be completed by 31 December.
Any matches not completed at this date will result in 0 points for each team involved.
10. Draw for next round of last 16 will take place on 2nd January.
Please note that it is important that all efforts are made to complete the games. Failure to do so will result
in you letting down your partner and will also impact the other players in your group chances of progressing.
Lastly, the competition committee's decision is final.
Playing matches:
From Nov 16th/17th, the first 3 lines on the timesheet will be reserved for the winter foursomes competition.
To reserve one of these lines, please ring the pro shop.
Please bear in mind, that while the first 9 holes will be at normal foursome pace, there is a 2 tee start in operation, and the back 9 may be slower.
There are plenty of other options to play the matches, such as the early afternoon slots at the weekends after the competition time or to play it on a weekday or if agreed by all players, it can be played over 9 holes.
Also, please endeavour to arrange any matches you can over the next 2 weeks as more pressure will come on as we get closer to Christmas and daylight hours dwindle.
Best of luck to all.
Niall Duggan