---
EGM
The committee have arranged a bunker information night on Thursday 12th October, to coincide with the EGM. This meeting will take place at 7pm and Mr Ed Pettitt of Carr golf will be in attendance to explain the project and address any concerns you may have.
---
Pictures of Captain's Charity day HERE
---
Night Golf 6th October
---
Well deserved Quentin.
---
10/9/23
Mark O'Sullivan had a Hole in One on the ninth hole in Sunday's medal.
---
Club Championship Match Play 2023
Finals on Sunday 17th September at 11.50 to 12.30.
---
2023 Interprovincial Championship
Captains John and Carol – Castleknock Golf Club,
As you are probably aware by now, your Club members Paul Coughlan and Quentin Carew have been selected to represent Leinster in the 2023 Interprovincial Championship being played in Moyvalley Golf Club.
This is a great honour for Paul and Quentin, their families and indeed Castleknock Golf Club. Their selection reflects the fine form they have displayed this year.
We write to you to congratulate your Club on their selection and also to ask you to reach out to your members and encourage them to come down to Moyvalley to support Paul and Quentin and the rest of the Leinster team. The matches are on Tuesday to Thursday 29-31 August with foursomes each morning followed by singles in the afternoon.
Yours in golf.
Harry McAllinden (Team Captain) & Michael Maher (Team Manager)
---
Monty has a big smile after his eagle on the first in the PGA comp on Thursday (24/8/23)
---
Irish Amateur Close at Malone GC
A brilliant effort by Quentin to retain his Close championship at Malone GC yesterday. After coming from 4 back with 10 to play he sank a 6 foot putt on the last to force a playoff against Rob Moran of the Castle GC. The 18th hole was played twice again and tied both times before they changed to the par 3 twelfth hole and it was won with a birdie by Rob. Once again, Quentin and Paul were flying the flag high for Castleknock Golf Club and confirming the prominent position the club has attained in the senior echelons of amateur golf in Ireland.
---
Paul Heffernan had a hole in one on the 18th hole in the Captain's qualifier. Well done Paul and hopefully the first of many.
---
Barton Shield Regional Finals at Castleknock
Castleknock beat The Island by 5 holes in the morning semi finals with Forrest Little winning the other semi against Greenore. Castleknock went on to win the pennant in the afternoon beating Forrest Little by 2 holes. Team manager was David Coughlan and the team members were Paul Coughlan, Quentin Carew, Ruairi Kennelly, James Mitten, Ian O'Connell, Luke Curran and Dara McNicholl. Some photographs of the day are below.
South Of Ireland 23
30/7/23: The journey is over for Paul this year after been hit by an avalanche of birdies in the semi final by Colm Campbell on the opening nine in Lahinch this morning. Colm went around the front nine in a 5 under par 31 shots.
However, it was a great championship for Paul who continues to make himself a stalwart on the Irish golf scene. Well done Paul we salute your great effort these last few days in Clare.
29 July: 16:13: Paul Coughlan wins 5/4 in South of Ireland quarter finals at Lahinch.
Well done also to James Mitten who qualified for the knockout section of the south.
---
Barton Shield
24/7/23
The Barton Shield team had a hard fought quarter final win over Malahide Golf Club in Malahide yesterday. 2 holes down at the turn they moved up a gear on the back nine and eventually won by 4 holes. The regional semi final and final will be played in Castleknock on the 13th of August where Castleknock will take on The Island and Greenore will take on Forrest Little in the other semi final. The final will be played on the same afternoon.
---
Castleknock Scratch Cup 2023
Report by Ronan MacNamara of the Irish Golfer
Quentin Carew picked up his second Senior Scratch Cup of the season as he edged out Enniscrone's David Shiel in a playoff on a thrilling Saturday afternoon in Castleknock.
The Irish Close champion roared out of the traps with a five-under 67 in tough windy conditions to build up a three-shot advantage heading into the second round in the afternoon.
A two-under front nine maintained Carew's three-shot cushion on seven-under-par before a birdie on the 10th saw him stretch his lead to five and seemingly out of sight.
Carew moved to nine-under with two holes to play but he was no longer coasting to victory as Shiel applied serious pressure with a blistering run of four birdies in seven holes to shoot from level to six-under.
Shiel then birdied the 18th before Carew amazingly double bogeyed the closing par 3.
The tables turned once again in the playoff as the players went down the 18th. Both players came up short but Shiel found the water and cost him a double meaning Carew had two putts for bogey from 15 feet to seal the deal to rapturous cheers from his fellow members.
"Delighted to get the win," said Carew. "It was a tough day out there, particularly in the second round, a lot of wind.
"I started off really well in the second round and got a good lead by a few shots on the lads. Made a few silly mistakes over the last five or six holes and David made some birdies to get back into it.
"After 18 it was all level again and it was tough to take after having a good lead and letting it slip. It was hard to refocus I was very down on myself and angry with myself, just silly mistakes.
"I got my head back into the right place and told myself I was still in it. The relief was unbelievable to be honest!
"The feeling of throwing it away is the hardest thing ever to get your head back into the frame of mind to refocus and get it done. I was delighted to get my head back in the right place and get it over the line, it will stand to me no doubt."
---
Legends
---
Senior Cup
After a brilliant win over the hosting club, Baltray, in the semi finals of the cup we came up against Royal Dublin in the final but they proved too good and won by 3.5 to 1.5.
12/7/2023
Senior Cup Semi- Finals: Sunday next
---
03/07/2023
Quentin and caddie Paul at the final qualifying for The Open at the Royal Portcawl links this morning.
---
President's Prize
---
President's Prize
Hi All,

This coming Saturday is Rita O'Dwyer's President's Day. For the President's prize your score will count towards the Golfer of the Year award. The format is Singles Stableford, played from the Blue Tees. As this competition is designated a Major, there are a number of additional conditions:

To win the President's prize a member must have entered 4 qualifying club competitions in previous 12 months
The maximum playing Handicap is 28 (for all Major Competitions) – a player's nett score will be calculated on the basis of a maximum handicap of 28. This will not preclude members with an excess of 28 playing handicap from winning a category prize.
There is a requirement to have recorded a minimum of 20 registered WHS qualifying scores in the Golf Ireland scoring App in order to win a major competition.
While juniors are eligible to enter, they are not eligible to win the overall President's 1st or 2nd Prizes. They are of course, eligible to win the other prizes.

Rgds

Tom Maher Comp Sec
Shocking Merger Throws Golf Into Even More Chaos
By: Derek Clements | Wed 07 Jun 2023 |
In a special View From The Fairway column, Golfshake's Derek Clements shares his current thoughts on the staggering news story that has engulfed the world of golf this week.
---
AND so, finally, the squabbling is over. In a shock announcement, it has been revealed that the PGA Tour and DP World Tour will now be working alongside the Public Investment Fund of Saudi Arabia, which has financed LIV Golf.
Well, that's what those in charge would want us all to believe. In reality, there is not a chance.
If anything, the merger has thrown the sport into even more chaos, with allegations of hypocrisy being aimed at many of the central players involved. Many golfers feel let down by their leadership, believing that golf has now been sold to the highest bidder.
PGA Tour commissioner Jay Monahan, who could barely bring himself to utter the words "LIV Golf" only a few days ago, is one of the chief architects behind the merger and many of his members feel that he has let them down.
Last year Monahan said: "As long as I'm commissioner of the PGA Tour no player who took LIV money will ever play on the PGA Tour again." He now says all golfers who joined LIV will be able to reapply for PGA Tour membership in 2024.
Unsurprisingly, there have been calls for him to resign, and it is difficult to see how he can possibly survive.
Human rights group Amnesty say the announcement is further evidence of Saudi Arabian efforts to draw attention away from the country's human rights record. And the 9/11 victims group says the PGA Tour should be ashamed of their "greed and hypocrisy".
In theory, LIV golfers are now free to play in the Ryder Cup, but first the Europeans would have to reapply for membership of the DP World Tour, serve suspensions and pay fines.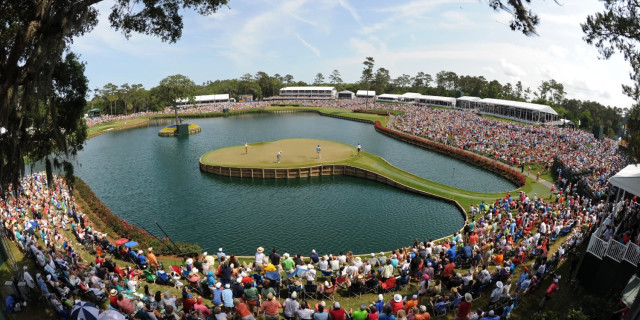 It remains to be seen whether relationships that appeared to be irreparably damaged as a result of the split can ever truly be healed but this is probably the outcome most of us who love golf had hoped for – but never dared believe would actually happen.
Many harsh words have been exchanged by all sides over the past year or so, things that can never be unsaid.
But at least we now know that there will be no more protracted court battles and that everybody involved can get back to doing what they do best – playing golf without distractions and allegations ringing in their ears.
It will also hopefully see the end of all those dreadful parody accounts on social media. And we can look forward to golfers no longer bad-mouthing each other on Twitter.
Hopefully, most LIV golfers will be welcomed back with open arms but there may still be some difficult conversations ahead for some of those who moved to LIV Golf and were the most vocal critics of the PGA Tour and DP World Tour.
Phil Mickelson accused the PGA Tour of greed. Then again, he said the Saudis were "scary mother*****s". And remember that Brooks Koepka was booed when he was announced to the first tee at the US PGA Championship, which he went on to win.
There was also that unsavoury spat between Rory McIlroy and Patrick Reed in Dubai.
And does this mean for Greg Norman? During the past year he has arguably been the most divisive character in this whole sorry saga, closely followed by Sergio Garcia and Mickelson.
So how will this deal sit with the many people who have criticised Saudi Arabia's involvement in professional golf, given their human rights record?
The man who now appears hold all the cards is Yasir Al-Rumayyan, the governor of the Saudi Arabia's sovereign wealth fund and the man who holds LIV Golf's purse strings.
On Tuesday as the news broke, PGA Tour pro Michael Kim asked on Twitter: "What the hell is going?" Canadian Mackenzie Hughes wrote: "Nothing like finding out through Twitter that we're merging with a tour that we said we'd never do that with."
Two-time major winner Collin Morikawa echoed that sentiment: "I love finding out morning news on Twitter."
It is clear that PGA Tour golfers had no clue that this was about to happen, and many feel bewildered. Considering everything that has been said and written, that is hardly surprising.
The Golf Channel's Brandel Chamblee said: "When I first heard about it, I was completely shocked. After the shock sort of ebbed away, I was hugely disappointed.
"I think this is one of the saddest days in the history of professional golf. I do believe the governing bodies, the entities, the professional entities have sacrificed their principles for profit."
It is difficult to argue with that view.
Unsurprisingly, Mickelson had a different take on it all. He tweeted: "Awesome day today."
There will, no doubt, now be a clamour for Garcia to be included in Europe's Ryder Cup team. Given some of the things he has said about the DP World Tour, how can that possibly be allowed to happen? The Spaniard has always been a man who divides opinion and would do little to promote team unity.
Lee Westwood and Ian Poulter may also find some support for Ryder Cup recalls but, really, what would they add to the team? They have shown no form to speak of since their defections and are clearly past their best.
This is a stunning development that has taken the golf world by surprise. The PGA and DP World Tours were sworn enemies of the LIV circuit, which had poached some of their best players.
They viewed Norman's breakaway tour as an existential threat and entered into bitter and expensive legal action. But this was becoming increasingly uncomfortable for LIV's Saudi Arabian backers, who faced the prospect of being interrogated under oath during the discovery process.
The PGA Tour were also looking at huge costs to finance a string of $20m (£16.1m) tournaments introduced to counter LIV and had already dipped into their reserves.
It is a truly extraordinary climbdown for the PGA and DP World Tours to acknowledge LIV as being "positively transformative for golf".
Nevertheless, this deal appears to signal Saudi Arabia's massive wealth as a unifying force for the men's professional game. That is not likely to sit easily with critics who have regarded the PIF's involvement with LIV as nothing more than sportswashing for a Kingdom whose human rights record is often questioned.
How this will transform the game remains to be seen, but all sides will be happy the threat of legal action has gone away. LIV players also now have a pathway back into a more unified game.
The golfers who turned down the LIV millions to remain loyal to the established tours must be questioning their decisions now.
They could be forgiven for feeling somewhat betrayed when the rebels walk back into the PGA Tour and DP World Tours next season.
It turns out that they could have had their cake and eaten it after all.
---
---
Vice Captain's 23
---
---
Looking good lads!
Dressed by Gucci.
Roddy and Paul set the style in the Club Match Play this morning.
But alas, in round 2, the Gucci men met their match in Martin and Sean in what was a humdinger on Tuesday. They'll have to keep the other 5 outfits till next year.
Where would it have gone!!
---
Shay Lynam had a hole in one on the 9th hole on the 18th May.
---
West of Ireland Championship (see update below)
The West of Ireland Championship which starts Easter week in Rosses Point is celebrating the event's 100th Year. First played in 1923 when Co Sligo's Larry Vernon beat BM Cook 3&2 in the final, the Championship has since been won by major winners Pádraig Harrington (1994), Rory McIlroy (2005 and 2006) and Shane Lowry (2008).
The championship will boast a new format this year with the field playing three rounds of stroke play on Friday, Saturday and Sunday, with the leading 16 players then facing off in match play. There will be an 18-hole stroke play qualifying event on Wednesday April 5th offering at least eleven places in the 132-strong Championship field.
Bray's Alan Fahy defends the title he won twelve months ago and last year's beaten finalist, Liam Nolan is in the field as well. A notable absentee will be Matthew McClean who will be playing in the Masters over the Easter weekend.
4 players from Castleknock, Paul Coughlan, Quentin Carew (Irish Close Champion), Ruairi Kennelly and James Mitten qualify directly for the event while Luke Curran and Dara McNicholl will tee it up in the qualifying round on Wednesday. We are hoping for great things for the lads and they can be sure we will be following their progress with great interest on the URL below.
---
Update on West 11/4/23
Quentin Carew finished in 4th place overall in the stroke play portion of the west and this morning overcame the English man Aaron Edwards-Hill to win by 2 holes in the last 16 of the match play. Unfortunately , after a real neck and neck match in the quarter final, he was beaten 2 & 1 by Marc Boucher of Carton House.
The overall winner of the West of Ireland was James Claridge from Enville Golf club near Birmingham England who had an easy 6 & 5 winning margin over Barry Anderson from the home club, County Sligo.
---
Rosslare Senior Scratch Cup
Quentin and Paul finished joint leaders along with Jake Whelan of the Grange on 4 under par at the Rosslare Scratch cup on Saturday. In the playoff between the 3 of them, Jake fell by the wayside on the first hole and left both Castleknock lads to battle it out. A fine putt won it for Quentin on the 3rd playoff hole.
Congratulations and well done to both of the lads, they're certainly putting Castleknock on the map!!
What a great way to focus the mind and swing for next weeks provencial championship at Rosses Point.
---
Captains' Drive-in 23 Pics HERE
Jayo in New York HERE
---
Multi Media
---
Saint Paddy's Day
---
Junior Car space
Una Murphy has submitted the successful bid for the Junior Club reserved parking space. Una will own this space from this weekend the 4th March.
On behalf of the members, we thank Una for her generous support of this fundraiser for the Junior members. Thank you Una !
In addition, on behalf of our Captains John and Carol . Can I remind everyone that tickets for the raffle for the other reserved car parking space are still available in the pro shop. All funds raised go to the captain's nominated charity, the Alzheimer's society.
The draw for this prize will be made on the evening of the Captains Drive in on Saturday the 25th of March.
Plenty of time to get yourself the winning ticket for the good cause.
Regards, Hon Sec.
---
Draws for Reserved Car Spaces
Draw 1
In support of our junior club, we have the pleasure to offer members a chance to tender for a Reserved car parking space at the front of the clubhouse. Funds raised will go directly to support our Junior members development at Castleknock golf club.
This is a blind Bid tender with the parking space for 1 year going to the highest bidder.
Bids must be made via one single email to the hon secretary at honsec@castleknockgc.ie copying also our junior Conveyor, Cormac Reilly at juniorgolf@castleknockgolfclub.ie
Deadline for valid bids is Friday the 25th February.
The new owner of this valuable space will be announced on the evening of the Captains Drive in.
On behalf of your committees' and the Junior club , we thank you in advance for your support
Please note this is running in conjunction with a separate Raffle for another reserved parking space with the funds going to the Captains charity for 2023. Tickets available for this space in the Club shop.
Draw 2
A charity raffle will be held on the evening of Saturday, March 4th (Captains Drive-in) for the reserved parking space in front of the entrance of the Club House.
The raffle is being held in aid of The Alzheimer Society of Ireland which is the Captains Charity for 2023. Tickets can be purchased in the pro-shop and cost €10 per ticket and are on sale now. This is your chance to win your own reserved parking space at the club until March 2024 whilst supporting a wonderful charity in their fundraising efforts.
The Alzheimer Society of Ireland is the leading dementia specific service provider in Ireland. The society works across the country in the heart of local communities providing dementia specific services and supports and advocating for the rights and needs of all people living with dementia and their carers.
The society also operates the Alzheimer National Helpline offering information and support to anyone affected by dementia on 1800 341 341.
Thanks in anticipation of your support for this worthy cause.
Kind Regards,
John Newcombe and Carol Kirwan
Captain Lady Captain
---
The Brophy Trophy 2023
Hello members,
It's that time of the year again & we're calling on all members interested in representing Castleknock Golf Club in inter-club competitions during 2023.
Our annual foursomes competition, open to all members, will recommence on 6th February & will be limited to the first 32 pairings entered.
All interested players must register with the pro shop before 6pm on the 4th February.
This competition has played a major part in identifying players for inter-club teams, so we'd encourage anyone interested in representing Castleknock to register.
In the event you don't haven't a partner, not to worry, we will match you up accordingly.
Competition Format As Follows :
Foursomes match play played from the white tees.
Golf Ireland playing Handicap allowance applies, the maximum handicap for each player is 24.
Entrance fee is €10 per player. Register your name and telephone number via the pro-shop by 6pm on 4th February.
An open draw will take place on the 16th January and will be published, along with competition rules, that evening.
Round 1 to be completed by Sunday 19th February.
Round 2 to be completed by Sunday 5th March.
Round 3 to be completed by Sunday 19th March.
Semi-Finals will be held on the weekend of the 1st & 2nd of April.
The Final will be held on the weekend of the 8th & 9th of April.
Prizes for winners, runners-up & semi-finalists.
Best of luck to all participants,
Michael Clancy & Stuart Banks
---
---
---
---
---
---
Awards Night
---
26th Nov
Well done Paul!
Paul Windsor had a hole in one at the 18th last Saturday.
---
Captains' Dinner (photos)
---
Match Play Championships
Tables HERE
Mixed
The final of the Mixed Foursomes took place today (October 27th) and resulted in a win for Feargal Costello and his daughter Iseult against Paddy and Rosaleen Geaney.
Singles
The singles match play champion is Mark Gilsenan who got the better of John R Murphy in the final on Sunday last.
Doubles
In the Doubles event the winners were Anthony Doyle and Diarmuid O'Mahony who overcame the father and son pairing of John and Ben Newcombe. It was a second championship for Anthony and Diarmuid who had won it previously in 2018.
---
Golfer of the Year
October 22
Liam Smith is the Golfer of the Year for 2022. It was a very close run race with a mere 3 points separating Liam and the runner-up Martin Cahill over the 12 events that made up the competition.
---
Barton Shield at Tramore GC. and the night before in Waterford
---
Captain's Plate and Lady Captain's Prize
Captain's Plate & Lady Captain's Prize
---
Luttrellstown Challenge Match – Sun 4th Sept
We lost out to Luttrellstown in our annual Ladies Fourball Annual challenge yesterday. But everyone really enjoyed the day and it was fantastic to have 3 junior girls on our panel for the match… Ellen O'Shaughnessy, Caoimhe Toland and Iseult Costello .
Luttrellstown have now won the trophy 3 times in a row . So, we will have to do better next year and bring the trophy home !!!
All Ireland Barton Shield Finals
All Ireland information update at Tramore Golf Club.
QF
Thursday 1st September Tee off at 9.40 and 9.50
Castleknock v Roscommon GC.
If Castleknock win they will play either Cork or Galgorm Castle in the semi-final on Friday at 11.50 and 12.00.
For Supporters travelling please note below regarding parking. All supporters are to use parking and shuttle service which will be available at Tramore Racecourse, which is 4 minutes away.
No parking available at the golf course itself.
---
---
Best of luck to Michael and Margo on their Captains day
---
Inter-provincial Championship
Leinster won the Inter-provincials by half a point today with a score of 20 matches won and a big part of their success was due to our own Paul Coughlan who contributed 4 and a half of these. Paul was unbeaten in his doubles matches and his overall performance has surely cemented his position in the team moving forward.
---
Quentin Carew
Wednesday 17th Jack Creaner
Arrived in Headford around 8.30 and dropped into pro-shop for my first cappuccino of the day. It was chilly and I was glad I had my vintage Castleknock jumper to keep the chill out. The first person I met was David Coughlan who was "in the office" but had time to let me know that Quentin was 1up having just made a birdie on the 2nd hole but as I reached the group of spectators he had been pegged back to all square by Paul Conroy's birdie on 4. Sharing 5, 6, 7 and eight, Quentin went 1 up at the ninth with a super putt for a birdie 3 and he held onto the 1 hole advantage through the back nine which both players covered in level par. What a morning, and the dream lived on.
It was time to refuel for the final in the afternoon against the 1/10 favourite Hugh Foley, playing out of Royal Dublin, who had already won the North of Ireland, South of Ireland and the Bridgestone Order of Merit for 2022. Quentin had reached the final and we were delighted for him but surely he could not overcome an Irish champion at the top of his form – no, the bookies were right and the contingent from Castleknock and Edenderry should be happy enough with what they had. And we were. Great. We all went to lunch..but ended up having breakfast and someone had trifle …just like mother made.
So one o'clock arrived and we all washed the hands and trudged off to see what the afternoon would bring. The sun was breaking through so it was decided to leave the jumper in the car and and don the wide brimmed sunhat. Got to the first and they had already teed off and I noticed Quentin had found the left side bunker some 190 yards from the green. The loud cheer told it all and the hole was halved but Q went 1 up when his approach to the third finished a foot from the hole and was conceded by Hugh. A poor tee shot to the par 3 fourth resulted in a loss and both had birdie threes at the fifth before Q hit a bad patch and lost the 6th, 7th, 8th and ninth to go 4 down. Surely there was no coming back from that! A bird on the 10th was followed by another on the 12th and when Foley conceded the 14th it was game back on. The par 5, 16th was huge. Quentin hit a 3 wood to 7 or eight feet of the pin and Hugh then bunkered his in the green side bunker. With a slightly downhill lie his bunker shot went close but continued through the putting surface and left a tricky return chip which he didn't execute too well. The eagle putt was conceded and we began to wonder if this thing was possible. Certainly, Q was the coolest of the two but both hit great shots to the 17th and to the last but although they went close, neither could sink a winner.
Lap 3 of the day. The 19th. Foley went close with his birdie putt but Quentin's looked to have his in the middle of the hole until the last couple of inches. On his knees, he couldn't believe it!
The 20th is a 525 yard par 5 and both players used iron to leave themselves about 275 yards from the hole. Q went first and faded a 2 iron to 8 feet from the back pin. What a shot!! Under the greatest of pressure, Hugh finished up in the bunker short of the green and his bunker shot came up 20 feet short. He putted and missed. The unbelievable story of Quentin's journey could never had ended with a concession and indeed it didn't. The eagle putt never left the hole and the 2022 Irish AIG Irish Men's Amateur Close Champion was Quentin Carew of Castleknock golf club.
Sure we always knew he would do it.
---
Tuesday 16th 4.20pm
This is some adventure. Quentin has reached the semi final having won 2&1 in the morning game against Jake Foley and beating Sam Murphy by the same margin in the Quarter final.
Headford is the place to be tomorrow for the semi final 😀😀
Monday 15th 4.30pm
Quentin has progressed to the 3rd round of the AIG Irish Men's Amateur Close Championship at Headfort golf club. He beat Alex Maguire from Laytown and Bettystown in the morning round and has just overcome Rory Milne from Faithlegg in the afternoon fixture. He'll be lining up against Jake Foley from Elm Park in the 3rd round and with a little luck he will keep the Castleknock flag flying. C'mon Quentin.
---
Paul Coughlan
From John Newcombe: More good news!
Paul Coughlan has been selected on the Leinster team for upcoming inter-pros.
See below from the Leinster manager.
————————————
Subject: Leinster Inter-pros 2022 – Paul Coughlan
As you are probably aware by now, your Club member Paul Coughlan has been selected to represent Leinster in the 2022 Interprovincial Championship being played in Moyvalley Golf Club.
This is a great honour for Paul, his family and indeed Castleknock Golf Club. Paul's selection reflects the fine form he has displayed this year and is now one of the top Amateurs in Ireland.
We write to you to congratulate your Club on Paul's selection and also to ask you to reach out to your members and encourage them to come down to Moyvalley to support Paul and the rest of the Leinster team. The matches are on Tuesday to Thursday 23-25 August with foursomes each morning followed by singles in the afternoon.
Yours in golf.
Harry McAllinden (Team Captain) & Michael Maher (Team Manager)
---
Captains' Prize 2022
---
Revive Active Ladies Fourball
Margo: Revive Active Ladies Fourball Leinster North Final v Royal Tara
Unfortunately we lost out to Royal Tara, in the Leinster North final yesterday. The better team won on the day.
It was fabulous to see so many supporters come along to cheer on our team in Lutrellstown – in the glorious sun.
Thank you to everyone who came along – both male and female!
A special thank you to Una Murphy & Carol Kirwan – for managing the panel during the last few months- and for getting us to a final !
Some photos of the day below
---
Barton Shield Leinster Region
Paudie Lyons: Bard in Residence at Castleknock G.C.
"All hoped for things will come to you, who have the strength to watch and wait"
Violet Fane- "Tout vient a qui sait attendre"
A Barton Shield final where the venue was fixed before a ball was struck.
The Knock burdened with the cruel injustice of facing a team who had the enormous good fortune of playing both matches, not at a neutral venue, but on their home patch.
No matter.
Often the underdog, sometimes the upstart, this Castleknock team stared down the inequity and dismissed it.
The old saying held true that the bigger they come, the harder they fall. And so it came to pass that a Dundalk team, with Irish International and Walker Cup player Caolán Rafferty in its ranks, reached for 5th gear down the stretch, and found that it simply wasn't enough.
In the end it came down, as it must in any good golf story, to the last.
A treacherous chip over a bunker to a tight flag off a dodgy lie. Cometh the moment, cometh the man. Our man. Iano. For most of us who have been here since at or near the start, Ian is a young fella who has grown up with the club. Fitting then that he should deliver the coup de grace.
But this panel has now written their names in the history of Castleknock GC. As has the manager, Dave Coughlan, and the interclub brains trust, the dream team of Niall Duggan and John Newcombe.
And so onward to an All Ireland Quarter Final. Dreams of a green pennant dancing in our eyes.
The American Quarterback, Joe Namath perhaps put it best
"If you aren't going all the way, why go at all?"
Joe could talk. He knew. Three superbowls. Now is the time to embrace our inner Joe!!
And so we watched and waited, but we wait no more. See you in Tramore. This story has a bit to run.
The Quarter Finals of the All Ireland Barton Shield will take place in Tramore golf club from the 1st to 3rd September
---
Leinster Women's Championship
Congratulations to Ellen O'Shaughnessy who finished runner up in the Leinster Women's Championship match play at Bray golf club on Sunday.
---
Hole in One
Iseult Costello, Siun's sister, claimed a hole in one on the 18th hole last Friday!
---
Junior Open Tour
Well done Siun we're very proud of your great achievement.
President's Prize photos
---
The NCBI HolmPatrick cup raises funds for the National Council for the Blind of Ireland.
The 2022 Brophy Trophy winners( Gerard Gilsenan and Nicholas Treanor) will represent Castleknock Golf Club in the HolmPatrick Cup at Bray GC on 8th September 2022. Best of luck to the lads. –https://www.ncbiholmpatrickcup.com/all-dublin-final/
---
Mixed Foursomes Interclub Team
John Newcombe 21st July
Congratulations to Mixed Foursomes team who had a comprehensive 4-1 win over Blackbush last night. They are now into the semi-final against Balbriggan. Date to be confirmed.
We'll done all! The teams photo below.
Revive Active Ladies Fourball
By Margo: 18th July 2022
We are through to the final !!!
What a successful Interclub weekend we Castleknock Golf Club had this weekend! On Saturday the men won their Barton Shield semi final v Portmarnock , and on Sunday the Ladies Revive Active Fourball team won their semi final v Ardee.
So, the club is now through to 2 regional finals !
Huge Congratulations to the Revive Active Ladies Fourball team (and their very dedicated managers Una Murphy & Carol Kirwan) on getting the ladies through to our first ever regional final !!!.
The semi final v Ardee was played on the hottest day of the year so far. The fact that Trish & Iseult's match in Castleknock went down the 19th and the last match in Ardee (Eilish & Vivien) went down the 20th made the temperature even hotter for all players and spectators ! Well done to Eilish , Vivien, Trish & Iseult on having nerves of steel to win those matches on the playoff holes .
Here are some photos of the victorious team:
Home – Trish Ryan & Iseult Costello, Richella Boggan & Sadhbh Kenny
Away- Eithne Cusack & Margo O'Donoghue, Una Murphy & Colette Cleary, Eilish O'Sullivan & Vivien Lee
The final will be v Royal Tara , on August 7th in Luttrellstown.
---
Barton Shield
From Captain Michael Clancy:
Dear member,
Castleknock Golf Club are playing Portmarnock Golf Club in the semi- final of the Barton Shield at 3pm tomorrow Saturday 17th( 1 match in each location)
It is the first time that the club has an opportunity to reach a pennant final at this premier elite golf level .
The weather will be good with 25c+ temperatures so I would appreciate your support (and family) by either coming to Castleknock or Portmarnock to cheer on the team.
Regards
Michael Clancy – Captain Castleknock Golf Club
---
John Newcombe: 13/7/22
3 Castleknock players, Paul Coughlan, Ian O'Connell and Ruairi Kennelly, have qualified for the North of Ireland Championship in Royal Portrush starting this morning. You can follow their progress using this link.
https://www.golfireland.ie/men-s-championships#/competition/3247636/leaderboard
---
President's Prize
There was a great turnout of 181 for the President's prize on Saturday and in the middle of the holiday season it shows how popular the new president is within the club. The weather played its part as well and produced a beautiful summer's day with a slight breeze for comfort's sake. The course as usual was playing in top notch condition and the scores reflected this with a good number of players beating the 36 points mark.
President's Prizes
7 DAY Members: The President's competition for 7day members will take place on Saturday 9th July 2022 from 7am to 2pm. This is the second major of the season and will count towards GOTY.
Format: Men: Stableford from the Blue Tees. Ladies: Stableford Red Tees
Competition entry Fee: €10 payable in the Pro-Shop
BBQ food (Beef burger, Chicken Burger, Sausage) and salads (€12.50) will be available on the ground floor terrace area from 12pm and will run throughout the day. Presentation of prizes is scheduled for 6.30pm.
Prizes Men
First, Second and Third Overall
First and Second in Handicap Categories
Lowest Gross, Nearest the Line on 13th
Nearest Pin on 18th, Front 9 and Back 9
(Max. of one prize per participant)
---
5 DAY Members: The President's competition for 5day members will take place on Thursday 14th from 8am to 9am & 11.10am to 1.30pm. The time sheet will be open for the competition at 6pm Wed. 6th
(PLEASE NOTE – If you are a member of the Porterstown Golf Association and normally play on Thursday morning, you may still play at your normal time-slot- between 9am and 11am and also enter the President's prize at the same time as well – Remember to register for both in the Pro-shop)
Format: Men: Stableford from the White tee. Ladies Red Tees
Competition entry Fee: €10 – Payment by debit/credit card payable in the pro-Shop
BBQ food (Beef burger, Chicken Burger, Sausage) and salads (€12.50) will be available on the ground floor terrace area from 12pm onwards and will run throughout the day.
Payment will be taken by your Castleknock member's flexi credit or by credit / debit card for refreshments and food.
The presentation of prizes is scheduled for 5.30pm Thursday afternoon.
There will be an array of prizes to be won:
Prizes
First, Second, Third and Fourth Overall
Nearest the Line on 13th
Nearest Pin on 18th, Front 9 and Back 9
(Max. of one prize per participant)
The best of luck to all and looking forward to seeing you all then .
Rita O'Dwyer
President – Castleknock Golf Club
---
Hole in One July Medal
---
Mixed Foursomes Rd 3
Margo: CONGRATULATIONS to the Mixed Foursomes Interclub Team on their 3rd round victory over Headfort on Sunday . We are now through to the Leinster North Region Quarter Final v Blackbush .
Photos of the smiling teams and their managers at home and away :
---
Inter Club 26th June 22
John Newcombe:
Upcoming Junior Boys fixtures this week
U15 boys against Laytown and Bettystown – away on Monday June 27th and home on Sunday July 3rd
U18 boys qualifiers in Forrest Little on Thursday June 30th.
Weekend results!
Pierce Purcell
Headfort 3
Castleknock 2.
Barton Shield
Castleknock beat Laytown by 6 holes.
Castleknock to play Portmarnock in S/F .
---
Vice Captains' Prize
Keith Walsh and Sharon Cosgrove win the Vice Captain Prizes
Amateur Championship
---
Interclub Mixed Foursomes
Margo: 13th June
The club won their 2nd round match v Greenore 3-2 today. Congratulations to the managers and their team. In Castleknock, the 2 pairings who played (and won their matches) were Danny Cole & Veronica Coughlan, and Luke Curran & Eilis O'Sullivan.
Photo of the team that played in Greenore are below
---
Carton Cup
13th June
---
UKRAINIAN SUPPORT FUND
---
CAR SPACE RAFFLE RESULT
Thank you to all who supported our Captains Raffle – for the Reserved Parking Space in the golf club – from 1 June 2022. We raised €1,220 for Enable Ireland
The winner is: COLETTE CLEARY. Congratulations and enjoy your new parking space Colette!
Michael Clancy & Margo O'Donoghue
---
---
Raffle for Reserved Car Space
In Aid of Enable Ireland. Tickets €10 each.
Reserved parking space for a year, starting on 1 June 2022.
Tickets are available at Pro Shop: payment by credit / debit card only
OR
If you have an active competition account, simply reply to this email stating how many tickets you would like to purchase .
Tickets must be purchased by Sunday 22nd May to be included in the draw.
---
Brophy Trophy
Inter-Club news
The Men's interclub season gets into full swing next week with 3 teams in action.
Our Senior Cup team kicks off their campaign on Wednesday 4th May with a home match against Co. Meath. Tee off at 4.30 pm.
On Friday 6th May our All Ireland Fourball team start their season against Rathcore in an away match. Tee off at 4 pm.
Finally on Sunday 8th May our Jimmy Bruen team tee off against Balcarrick at 2.30 pm. The Jimmy Bruen team reached the Area Final last year and are putting every effort to go one better this season.
All teams would appreciate as much support as possible so if you are around why not come down and watch your Club teams .
John Newcombe
---
---
Men's Singles, Men's Doubles and Mixed Foursomes
You have to enter through the Club V1 screen in the Pro-shop
---
---
---
[05/04/2022] John Newcombe:
The Laytown and Bettystown Scratch cup
Special Mention to Eoin Marsden on winning best 1st Round Gross in The Laytown and Bettystown Scratch cup last weekend. Eoin shot a superb 4 under par 1st round to lead the competition which was eventually won by Walker cup player Caolan Rafferty.
Well done, Eoin!
West Of Ireland Championship.
Castleknock have 5 players taking part in the West Of Ireland Championship taking place over Easter in Rosses Point.
Darragh McNichol and Luke Curran are taking part in the qualifiers on Wednesday with Ruari Kennelly, Quentin Carew and Paul Coughlan have already qualified for the main event starting on Good Friday.
Best of luck to all the lads and hopefully one of them will beat Paul's 2nd place finish in 2021.
---
BROPHY TROPHY update
[05/04/2022] John Newcombe:
Hi All,
After 5 rounds in all types of weather, congratulations to our 2 Final pairings
Nick Traynor/Ger Gilsenan v David Beechinor/Brian Stephenson.
The Final has been confirmed for Good Friday at 1pm with trophy presentation taking place in clubhouse directly afterwards.
Well done to both pairings for reaching this stage and best of luck in the final.
Also many thanks to Lorcan Brophy for his kind sponsorship and support of this year's tournament.
Also a special mention to Jack Creaner who updated the results section on the members website and kept everyone informed.
---
Winter/Spring league Update
Congratulations to Keith Walsh who won this with 233 points for his 6 best events. Full table here
---
Interclub News from Golf Ireland for 2022 season
For Golf Ireland information on the Inter club 2022 season click https://castleknockmembersclub.com/interclub-stuff/
---
Club Foursomes Trophy ( sponsored by Mr Lorcan Brophy)
Calling all members interested in playing interclub for Castleknock golf Club in 2022.
The Annual foursome's competition will recommence on 17th January 2022 .
This is a competition open to all 7-day, student and Junior members and will be limited to the first 32 pairings entered.
We encourage all players who are interested in playing to register at pro shop before 6pm on 15th January.
The tournament has played a major part in identifying players for Inter-club teams, so we encourage anyone interested in representing Castleknock at all levels to register to play.
Don't worry if you haven't a partner, once you enter at the pro shop a suitable team partner will be matched with yourself.
Format:
Foursomes Match-play off white Tees.
Golf Ireland playing Handicap allowance applies. Maximum Handicap for each player is 24.
Entrance fee €10 per player. Register with name and telephone number in Pro shop by 15th January 2022.
Open Draw will take place on 16th January and will be published along with competition rules on the that evening.
Round 1 will be completed by Sunday 30th January.
Prizes for Winners, Finalists and both semi-finalists.
Thanks,
John Newcombe and Niall Duggan
---
---
Message from President
Dear Members,
I am privileged and honoured to be appointed President of Castleknock Golf Club for 2022 -2023.
I would like to thank Lady Captain Ann Robinson and her committee for nominating me for the position of President.
It has been an uplifting experience for both men and lady members to have a Lady President in the club for the first time. I very much appreciate the response from the members to my appointment which has been hugely complementary, supportive and encouraging.
I look forward to being your club ambassador, upholding its values, following in the footsteps of Pat, Bernard and Jack.
I would like to take this opportunity in wishing you and your family a very enjoyable and peaceful Christmas time and a healthy and prosperous New Year.
Rita O'Dwyer
President
---
Ladies AGM 8th December
Awards Night 3rd December
Appreciation days
Big thank you to Carr Golf and the golf and restaurant teams at Castleknock for hosting the 2 appreciation days this weekend. It was a huge success and very much enjoyed by the large turnout on both days.
As a gesture by Carr golf to reward the loyalty and understanding of the membership during the difficult period of the covid closedowns, it was a big hit.
Mixed Foursomes Matchplay 2021
Ladies Singles Matchplay 2021
Men's Doubles Matchplay 2021 (23rd Oct)
Men's Singles Matchplay 2021 (17th Oct)
---
Ladies Doubles Matchplay 17th Oct.
---
Player of the Year 2021
The Player of the Year was won by Stephen O'Donnell from Enda Ryan and Paudi Lyons. The result was in the balance until the final event.
---
Paul Coughlan wins the Castleknock Senior Scratch Cup
---
Senior Scratch Cup
The Castleknock Senior Scratch Cup (Maximum handicap 2) takes place next Saturday the 25th September. It promises to be a top class competition and at time of writing has 51 players taking part in this 36 holes comp. So if you want to see top notch golf, Castleknock is the place to be next Saturday.
A big thank you to Jim Curley of Jones Engineering for a very generous sponsorship.
Thank you also to Paul Coughlan who has used his considerable influence in attracting Ireland's champion amateur golfers to attend.
Big names in attendance will be:
Rob Moran ( current Irish international / 2021 Ulster Strokeplay Champion)
Rob Brazil ( Irish International / 2018 West of Ireland Champion)
Colm Campbell (Irish international , Former Irish Amateur & East of Ireland winner
Jake Whelan ( 2021 Mullingar scratch cup Winner / Leinster Interpro )
This is a great opportunity for all members and Especially Juniors and their parents to enjoy an exhibition of Ireland's great amateur golfers.
---
Captain's Prize 4th September
Photo's from the course and the prize presentation
Field for Captain's Prize 2021
Inter-Club
Captain's Prize
Captains' Drive-In
President's Prize Winners All
——————
President's Weekend 17th July
Winners:
President Prize for Men: Paul Myler in a 3 way tie and winning on countback with 41 points.
President Prize for Ladies: Kay Murray had a comfortable win with 41 points.
President's Prize for 5 Day: Stephen Lynch had a round of a lifetime bringing in 44 points.
President's Prize
Below is the planned schedule for the President's Prize but of course there may be disruption to our planned programme due to current covid-19 restrictions.
Important
Please note that to win the President's prize you must have entered 4 qualifying club competitions (i.e. weekend competitions) in the previous 12 months.
Timesheet for President's Prize will be populated by the Competition Secretary .
There is no planned dinner but casual dining will be available after your round of golf. Burgers will be available as usual at the 9th.
Looking forward to meeting up with you all on the 17th.
Regards, Jack
---

---
SENIOR CUP (Area Quarter Final) 9th July
Another big win yesterday for our Senior cup team of -Paul, Ruairi, Alan, Dara and Ian- over a strong Baltray side.
Coming down the 17th fairway at 2-2, the game was very much in the balance with both golfers giving as good as they got. From very good drives both the combatants struck excellent irons into about 9 feet and 4 feet (shown in photo). Paul putted first and from where we stood it looked like it was missing on the high side until close to the hole it caught the slope and found its way home. A great cheer went up from the large crowd as Coughlan raised his fist in triumph.
So the bandwagon rolls on, next up is Laytown and Bettystown in the Area Semi finals and if I were you, I wouldn't miss it.
---

---

---
July Medal
Well done to Michael McNiffe who won the July medal after countback with a great net score of 68 playing off a handicap of 15. Losing out on the countback were Declan Murray and Michael Kenny also with 68s.
David Coughlan had the lowest gross score with a 70.
---
Interclub Week ending 11th July
More good Inter-club results again this week with the Metropolitian Cup team together with the Pierce Purcell and the Mixed Foursomes teams all winning handsomely.
---
---
Dear Members,
The Vice Captains' Prizes (Jim Reynolds & Margo O'Donoghue) which took place last Saturday was a great success. A big thank you to the 160+ members who played in the competition to make it the successful day that it was.
Many congratulations to all the winners, in particular to both Freddie Smith and Patricia McCormack, who won the VCs prizes with magnificent scores of 42 points and 44 points respectively. Well done Freddie and Patricia.
We will be in touch with all the prize winners shortly to make arrangements for them to receive their prizes.
Again congratulation to all the prize winners and thanks to all who played on the day.
Regards
Jim & Margo
Vice Captains
---
JIMMY BRUEN Sunday 27th June
Interclub success continued on Sunday when the Jimmy Bruen team overcame Royal Dublin by 3 matches to two on a gloriously sunny and warm afternoon. There were a good group of fans at both venues and those at Royal Dublin were treated to a superb fairway bunker shot by Marty Cahill to a couple of feet on the 17th for the match
BARTON CUP on Saturday 26th June
Another great display by our lads against Luttrellstown -who must be sick at the sight of us. Winning the 3 matches at home was enough to secure the tie and it was great to see Karl and Mick introduce some young blood into the team which bodes well for the future. Round 2 is away to Royal Dublin who got a Bye in the 1st round.
SENIOR CUP
A new look Senior Cup team (Paul, Dara, Alan, Ruairi and Sam) won a very tight game in Dunshaughlin tonight with Dara sinking a 3 foot putt on the 19th for a well deserved 3/2 victory over the Black Bush side. Dara having come back from 3 down with 5 to play for his memorable win. The Quarter Final of the Leinster North Section will be against Co. Louth. Date to be decided shortly.
Round 2 on Thursday 24th at 5.30pm with The Black Bush, 3 matches away and 2 at home.
The Senior Cup team of Paul and David Coughlan, Ian O'Connell, Alan Geraghty and Jamie Kiely won their 1st

round match 4-1 against Balcarrick last Wednesday.
This week's Inter Club Menu

JUNIOR CUP
2nd Round
Winning our 2 matches at home, we clinched victory when Karl won the 17th away by 3/1 to drive us into the next round against the winners of Royal Dublin and Sutton….bring it on!!
The Junior Cup Team of Jason Marks, Stewart Banks, Karl Craven, Brian Fitzpatrick and Martin Cahill won a trilling encounter against a strong Hollywood Lakes team on Saturday with Martin sinking the winning putt on the 19th at Ballyboughill.
Junior Cup 2nd Round versus Luttrellstown
Confirmed for next Tuesday 22nd.
2 games in Castleknock starting at 5.20 and 3 games in Luttrellstown starting at 5.50
---
BARTON SHIELD
Result: Some excellent golf played in both venues with Forrest Little coming out on top in the later stages.
Thursday 17th June: If you want to see real good golf then the place to be is in either Castleknock or Forrest Little where our best golfers will play in the Barton Shield. The format is Foursomes and kick off in both venues is 5pm. Try to be there.
Our men at home are Paul Coughlan and Ruairi Kennelly and Ian O'Connell and Alan Geraghty take the away leg.
---
ALL IRELAND 4 BALL
Wednesday 16th June: The All Ireland 4 ball team take on our near neighbours Luttrellstown in the local derby. Word from the camp is suggesting that Damien and Keith have put together a strong and relatively young squad to avenge the drubbing we received the last time we met some years ago. The lads are hoping for a strong turnout of fans to drive the team on. There are 3 matches away and 2 at home and the first group tee off at 4pm.
Castleknock won 3/2
---
JUNE MEDAL
Well done to Keith Delaney who won the June medal with a brilliant net score of 62 playing off a handicap of 22. I believe that 62 is the lowest winning score for a medal in Castleknock since it opened in 1995.
Derek O'Neill with a great 65 and his son Jack (a Junior) with 69 filled 2nd and 3rd positions while the in-form Mike Gorman was 4th.
---
CLUB MATCH PLAY
The Club Match play Championships are in full swing at the moment. For those involved, please remember that the 28th June is the final day to complete round 1. There can be no extensions.
---
Club Match play 2020
The long delayed finals of the 2020 match play were finally decided a while ago.
In the singles, Mike Gorman beat Danny Cole and in the doubles Joe Craven and Francis Hughes beat Brian Smyth and David Kealy